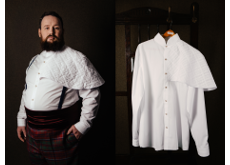 Born in 1849 in Dufftown, being a direct descendant from the Clan Grant, William Grant is one of Scotland's best known distillers and entrepreneurs and an obvious Scottish legend in his own right. A hard working family man, whose drive and self belief created one of our best loved exports. Stewart Christie dress his Doppelgänger in formal Grant tartan trews. Whilst on the mezzanine floor the whisky bar, allowed guests to sample the new project drams alongside their new IPA cask creation.
Neil Barker, Managing Director of William Grant & Sons UK, said:
"We are passionate about celebrating and supporting the independent spirit of those who match William Grant's experimental and ambitious creativity, so we couldn't be prouder to sponsor the Creative Legends event. Everyone at William Grant & Sons, which remains family-owned to this day, continues to be inspired by William Grant's vision to make the 'best dram in the valley'. 130 years later, his vision and legacy to drive progress the right way, without any shortcuts, continues to motivate us all. William would have been honoured to be part of this event, shoulder to shoulder with Scotland's greats."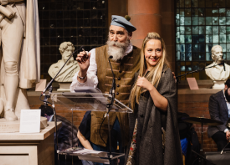 James McCallum (portraying Tam O' Shanter) and Vixy Rae (as herself) were the leading creative forces behind bringing together all the aspects of the event. The energy of the evening and the collective buzz helped drive the silent auctions and the live bidding from generously donated lots from many top brands and establishments. The evening raised over £16K in a matter of a few hours, quite an amazing achievement and a very proud conclusion to a fun evening for all.
Alongside Stewart Christie's tailored pieces, the Edinburgh College first year HND students created a shirt for each of the legends. The evening saw the Incorporation of Edinburgh tailors, one of the cities oldest trade guilds awarding a prize to the best and most innovative shirt. Jelena Pogodina was awarded a cash prize for her creation for her chosen character Mr William Grant. Her creation created a tone on tone tartan pattern in white poplin forming an incredible shoulder panel for her well tailored piece. It was a pleasure to have William Grant's Grandson attending the event and adding his seal of approval to the creation too. Stewart Christies' master tailor was so impressed with her work, if she continues to follow her passion she may even have a job with them in the future. With such positive response from all guests it seems they may need to dress more legends next year. So look out for the next creative legend event, and get involved.
Vixy Rae, Creative Director of Stewart Christie & Co, said:
"It has been such a wonderful opportunity to bring together so many creative ideas and so many talented individuals for this special evening with VisitScotland. We are celebrating both the heritage of craftsmanship, and the innovation of creative talent from Stewart Christie and from the Edinburgh College. The collaboration with the Edinburgh College has been something which Stewart Christie are extremely proud to be involved in. We realise there needs to be support from the business sector to inspire young people in their studies. We feel it is important to have their work recognised and appreciated from an outside perspective too. The Creative Legends event brings together so many different aspects of tailoring and garment making, giving a historical reference point to all the ideas and mixing them with a modern twist. Having William Grant & Sons sponsor the event brings an extra dimension to the evening, stimulating the real wealth of Scottish heritage and taste."
Hear from Dan Fearn, Director at Stewart Christies & Co as he discusses Scotland's craft, creativity and tailoring.