Image: A tope caught for tagging. The tags provide valuable information on where the animal moves to. The tope grows up to 2 m long and can be found in large packs within Scottish waters.
By Dr. James Thorburn, Coastal Resource Management Group at University of St. Andrews
It is a warm, sunny day, the seas are calm. Off a white sandy beach, a small boat at anchor gently bobs on the surface. Below, swarming over a reef, are hundreds of sharks, about 1.5 m long. They are feeding on fish and other reef creatures and will remain there for a few days before moving on as part of a long migration route that will take them from one end of the country to the other. Where are we? Whilst the scene above sounds reserved for far flung destinations like Australia or Africa, it is in fact a natural event in Scottish waters, where the part of this story that is perhaps a little make-believe is the weather!
One of the main ways sharks and their relatives (skates and rays), collectively known as elasmobranchs, differ from fish is their skeleton. Instead of bones, their skeletons are formed from cartilage which is lighter and more flexible.
The shark in our story is the tope, a native shark that grows up to 2 m in length. It can be likened to the reef sharks commonly seen in warmer waters. The tope is not the only elasmobranch (the collective term for sharks, skates and rays) species we have in Scotland. Over 60 species of shark, skates and rays have been recorded in our waters. Whilst some of these are undoubtably one off's, others are regular visitors or residents.
Gentle giants
Among these are some gentle giants!! Basking sharks, the second largest fish on the planet; at up to 11 m in length, swim through the water filtering out plankton. The largest skate species in the world; the common or flapper skate at 3 m length and 2 m wide has found a stronghold in Scottish waters.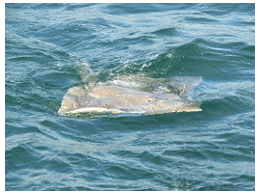 There are also many smaller species, such as the lesser spotted cat shark and thornback ray (more commonly called dogfish and thornies).
But regardless of size, what they all have in common is that a lot of people simply don't know they are swimming in Scottish waters. It is important to point out here, that despite the richness of shark, skate and ray species in our waters, they do not pose any threat to members of the public and their presence should be cause to celebrate, not fear.
Conservation
Another set of stats related to sharks skates and rays worldwide, but sadly also relevant in Scottish waters are also attention grabbing, but for a very different reason. Their decline. For example, the common skate, as the name may suggest, was once prevalent in UK waters. However, it is the first documented case of a marine species being declared locally extinct, being removed from much of its former range and pushed back to a few, localised strongholds. The spurdog, or spiny dogfish, is another Scottish shark. Over the last 100 years this species is estimated as having decreased by as much as 80%. These figures are reflective of the high susceptibility of elasmobranchs to fishing and highlights the importance of suitable management for the remaining populations.