Our traditional means of connecting wireless devices and communicating with one another are approaching capacity. For years we have relied on the radio spectrum, and slowly we are running out of bandwidth. The explosion of connected devices is accelerating this faster than ever predicted.
But LiFi is different – LiFi uses the light spectrum and this has unlimited potential, and its faster!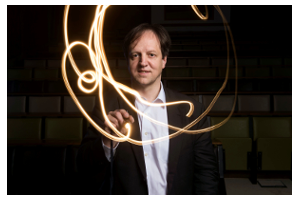 Professor Harald Haas from the University of Edinburgh pioneered the technology that allows light to communicate with devices and carry data. In 2011 he gave a successful demonstration at TED Global and coined the term 'LiFi' – meaning Light Fidelity. Dr Haas co-founded pureLiFi to help develop marketable technologies that would allow LiFi to enter into use. Today the company is headquartered in Scotland, and has ongoing projects in over 14 countries.
Professor Haas explained the science and technology further..
LiFi allows for data to be transmitted by modulating the intensity of light, which is then received by a photo-sensitive detector. The light signal is then demodulated into electronic form. This modulation is performed in such a way that it is not perceptible to the human eye.
LiFi can work indoors, outdoors, with the lights dimmed and is not strictly a line-of-sight technology. pureLiFi's technology is also LED agnostic which means it works with many off-the-shelf LED's.
The way LiFi works is simple but powerful. When a constant current is applied to an LED light bulb, a constant stream of photons are emitted from the bulb which is seen as illumination. LED bulbs are semiconductor devices, which means the current, and therefore the illumination can be modulated at extremely high speeds which can be detected by the photo-detector. Using this technique allows for high-speed information can be transmitted from an LED light bulb.
pureLiFi are creating devices, LED lights and adapters that can bring this incredible technology into offices and homes:
The applications for LiFi are limitless. Anywhere there is an LED light there can be data. LiFi is a platform technology that will extend the capabilities of wireless communications to places beyond even our current conception. Today there are real life applications and benefits for implementing LiFi. LiFi can enable secure wireless communications, connectivity in radio frequency hostile environments such as petrochemical plants and hospitals. LiFi also provides high speed, dense and reliable networks for enterprise environments and a pathway to enable smart buildings, transport, cities, and nations.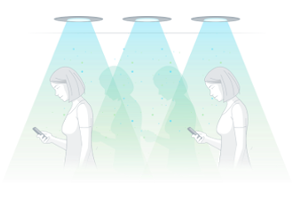 Soon mobile devices, laptops, tablets and even kettles and toasters could be built with embedded LiFi receivers. The LED lights in your office and home can be networked into existing communications infrastructure, and the seamless transition we already expect between 4G and Wi-Fi will extend to LiFi. And this technology is happening now – devices equipped to receive LiFi data are now available, as is the network infrastructure to convert existing LED lights into an internet network.
Not only this, but what was once a clunky technology, too big to use easily, has now been reduced to the size of a regular USB flash drive. Easy to use, easy to carry and ready to go!
LiFi is truly a transformational technology. It shows that Scottish universities are pioneering new technologies, and that the inventiveness for which Scotland is renowned is thriving. The global reach of pureLiFi demonstrates the lasting and real impact embracing and encouraging new technologies can have in creating new jobs and helping our economy grow.
But most of all, pureLiFi shows the best of Scotland – inventive, innovative and determined. Big thinking, collaboratively managed with international input. A research project from a world leading University, spun out into a globally transformational company. Truly, in Scotland, Ideas Become Legend.